Shop registration
How to add a shop?
Step 1
Entering your company ID No. or name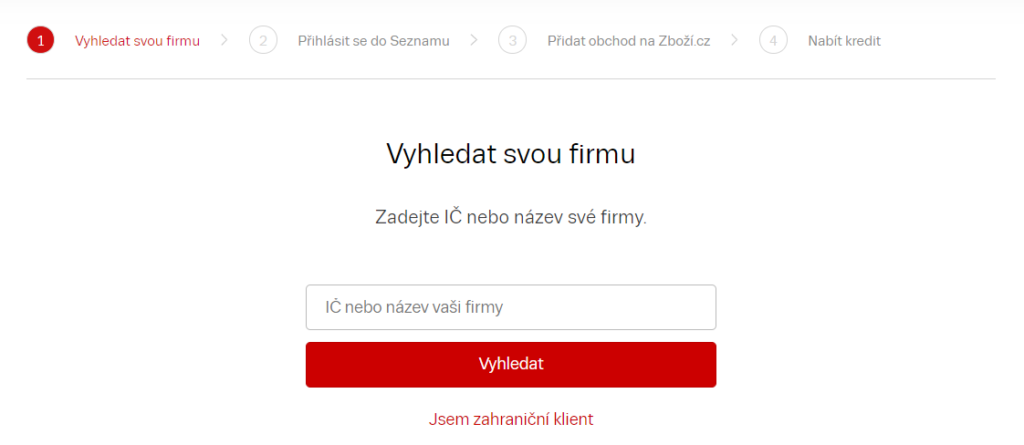 Step 2
Registration or logging into Seznam
If an ID Number is already registered in Seznam.cz, log in
We recommend logging in under the same account, so that you have everything in one place

Step 3
Adding an online shop on Zboží.cz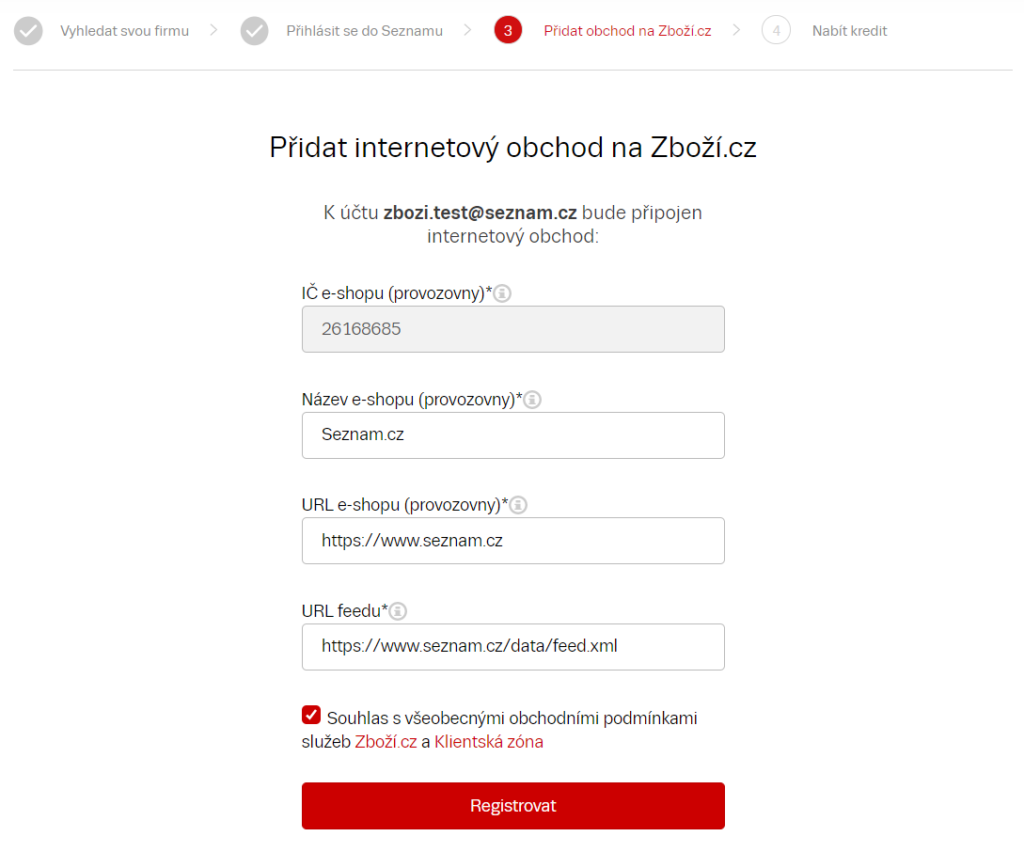 Step 4
For offers to start displaying on Zboží.cz, you need to top up your Seznam Wallet credit
How to proceed if a shop cannot be added?
If you are unable to add a shop and are sure you are filling in all the information correctly, please send us that information by e-mail at zbozi@firma.seznam.cz and we will advise you.
How do I change the information I entered during registration?
If you decide to change the information you have entered in the registration form, please do not add another shop, but contact us via e-mail at zbozi@firma.seznam.cz.
How to change the XML feed?
You can change the feed URL in the Zboží.cz administration interface in the ""Sortiment"" tab – "Zdroj dat" – through the three dots "Nastavení".
Adding another shop
You can register another e-shop in the same way as you did for the first e-shop. If you provide the same account with which you register, you will see all registrations under one login in the Zboží.cz administration.
Verification of registration
Once you have successfully completed your registration with Zboží.cz, your offers will start to appear within a few hours.
However, the condition is that
The XML feed be in line with the Zboží.cz specification
There is credit on the Peněženka account on which you set up the campaign
The registration is then subject to verification by Zboží.cz. The verification is carried out according to the Rules for Internet Shops..
If the details required for registration are not in order, we will contact you, to ask you to correct the deficiencies. Once you have corrected the deficiencies, do not register your e-shop again. Please notify us of the correction by e-mailing zbozi@firma.seznam.cz.
If all the details are in order, we will verify your registration. We will send you the verification information by e-mail.
The establishment will be verified once it is linked to the registration on Firmy.cz – from that registration, the following information is copied into Zboží.cz: the company name, address, logo, delivery points, etc. The link to Firmy.cz will be made within one business day (except for public holidays). The time delay is due to cooperation with colleagues from another department. If you have any questions, please contact us at zbozi@firma.seznam.cz
Once your registration is verified, you can start working on your campaign. You can find out what the first steps should be in the basic settings tab, in auction clicks or shipping and delivery points.