Zboží ADS (ZA)
ZA
Zboží ads are part of the Zboží.cz campaign and appear in the Seznam.cz Vyhledávání search, on Obrázky.cz and Sbazar.cz. The offer feed for Zboží.cz is used to display the offers. ZAs do not need to be activated, everything is automatic.
At the moment, Zboží Ads are being released in a test run along with Sklik's Product Ads. However, we plan to increase the share of Zboží Ads this year. In the second half of 2022, Zboží Ads will replace the entire volume of product advertising carried out by Sklik Product Ads.
The aim of Zboží Ads is to offer a relevant offer when a shopping query is entered, thus shortening the shopping journey of our users.
Displaying Zboží ADS
Offers are placed on top of or next to the top positions of Sklik's text ads. We also display product ads in the form of a carousel.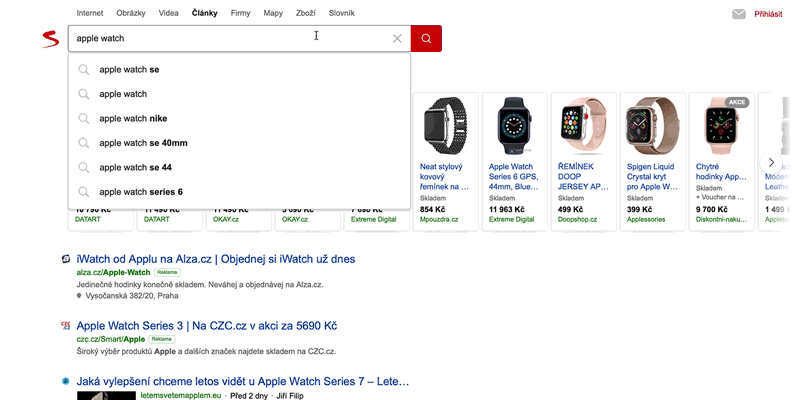 The number of offers displayed increases from 5 to 24 when the carousel is clicked.
A maximum of 2 offers per advertiser can be displayed.
Setting up max. CPC
Through the administration at Zboží
CPC for ZAs is set in the same way as CPC for Zboží.cz.
Through the Sklik advertising system
You can also advertise on Zboží.cz, in the Zboží.cz offers in the searches on Seznam.cz, Sbazar and Seznam.cz Obrázky via product groups in your Sklik account. To do this, you need to have your Zboží.cz account linked to Sklik and the statistics for the selected Zboží.cz establishment linked to Sklik.